Flexlines about their progress at 'Seminar Flexible Electronics and Smart Textiles' • 25 Nov 2019

Our Flexlines consortium was present at the DSP Valley seminar 'Flexible Electronics and Smart Textiles' on November 15, 2019. This workshop did focus on Flexible Electronics in general and Smart Textiles in detail. DSP Valley has brought together the companies (SMEs) and research actors, necessary to advance in this exciting domain.
New processing methods in Flexible Electronics provide the promise to realise light, thin, flexible and portable electronics on a large scale. A specific form of flexible electronics is Smart Textile: according to various studies the market for smart textiles and wearables is expected to enter an exponential growth phase for the European market. The majority of the applications are concentrated in 4 main fields: Protection & Defence, Sports & Fitness, Industrial and Technical Applications and Medical & Healthcare. These markets show a particularly great potential for SMEs to offer customised and niche market solutions with interesting cross-sectoral value chain impact.
In order to make connections with this branch of the sector, Flexlines has given a presentation with inputs from Auke Kronemeijer – TNO, Riet Labie – imec and Kris Myny – imec.

Auke Kronemeijer, Senior Researcher & GEN1 TFT Pilot Line Manager, TNO/Holst Centre, introduced the R&D pilot line infrastructure in Eindhoven. He indicated for which activities this infrastructure is employed. Flexlines focuses on application prototyping such as e.g. flexible display, flexible imagers and flexible integrated circuitry. Additionally, Flexlines is investing in further integration technologies of these prototypes by various methodologies such as e.g. in-lay lamination, injection moulding, thermoforming and in-textile integration. Examples of both prototyping and integration were shown in order to give the audience insight in (application) possibilities with flexible electronics, in order to feed their imagination to envision new and interesting applications they would wish for. Flexlines is getting ready to support the realization of those wishes.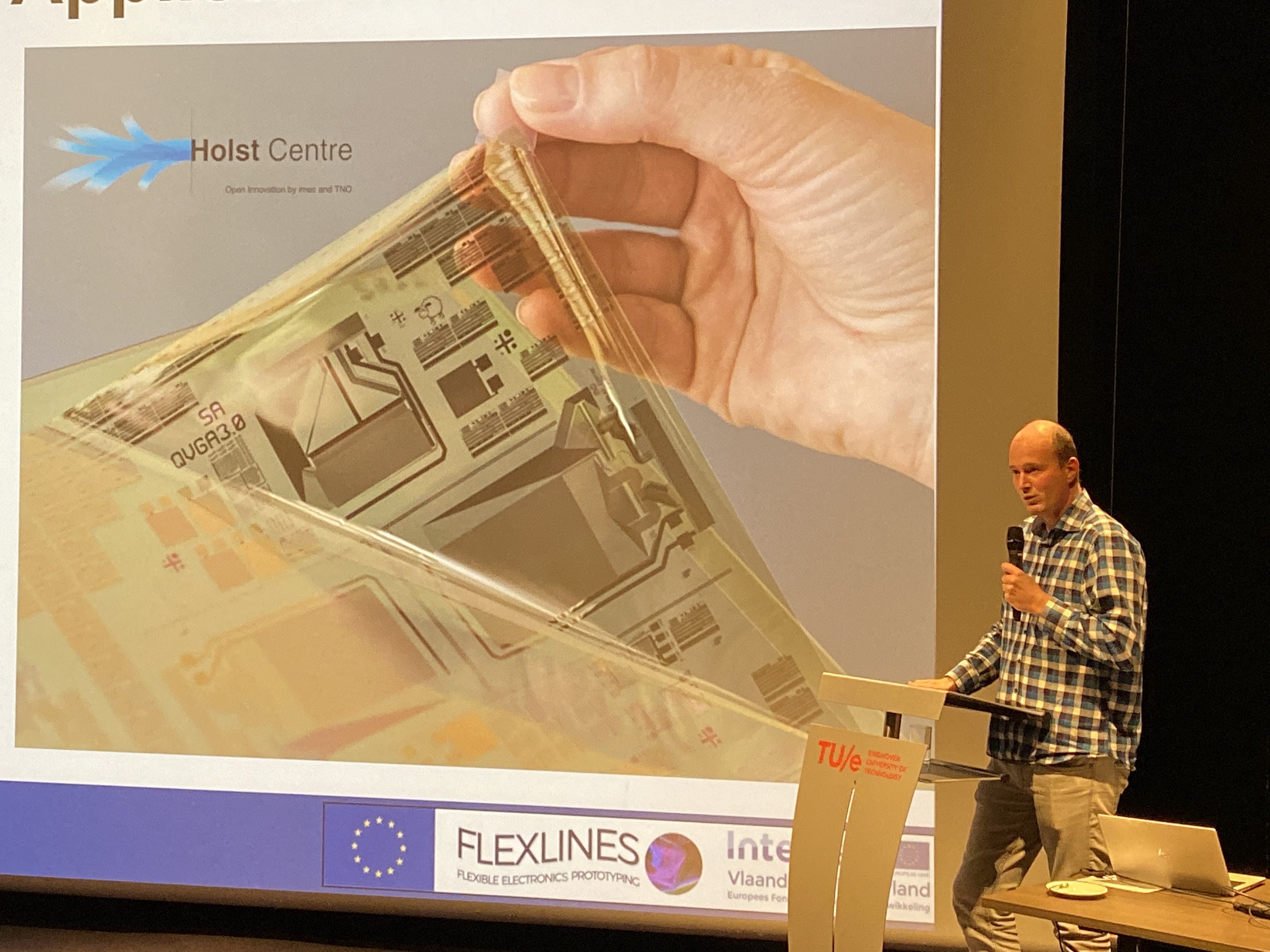 Auke Kronemeijer explaining flexible electronics technology


Riet Labie, Program Manager Materials and Interconnects at imec, talked about the one-stop-shop, as the Flexlines project aims to lower the threshold for academics and companies to access and investigate flexible electronic technologies. This will be achieved by setting-up a one single point through which the TNO R&D prototype line can be accessed. Design assistance will be provided by the Imec research team.
The concept of a multi-project-wafer, better called multi-project-panel, is applied: interested parties can subscribe for a specific panel area and processing costs will be shared among different parties.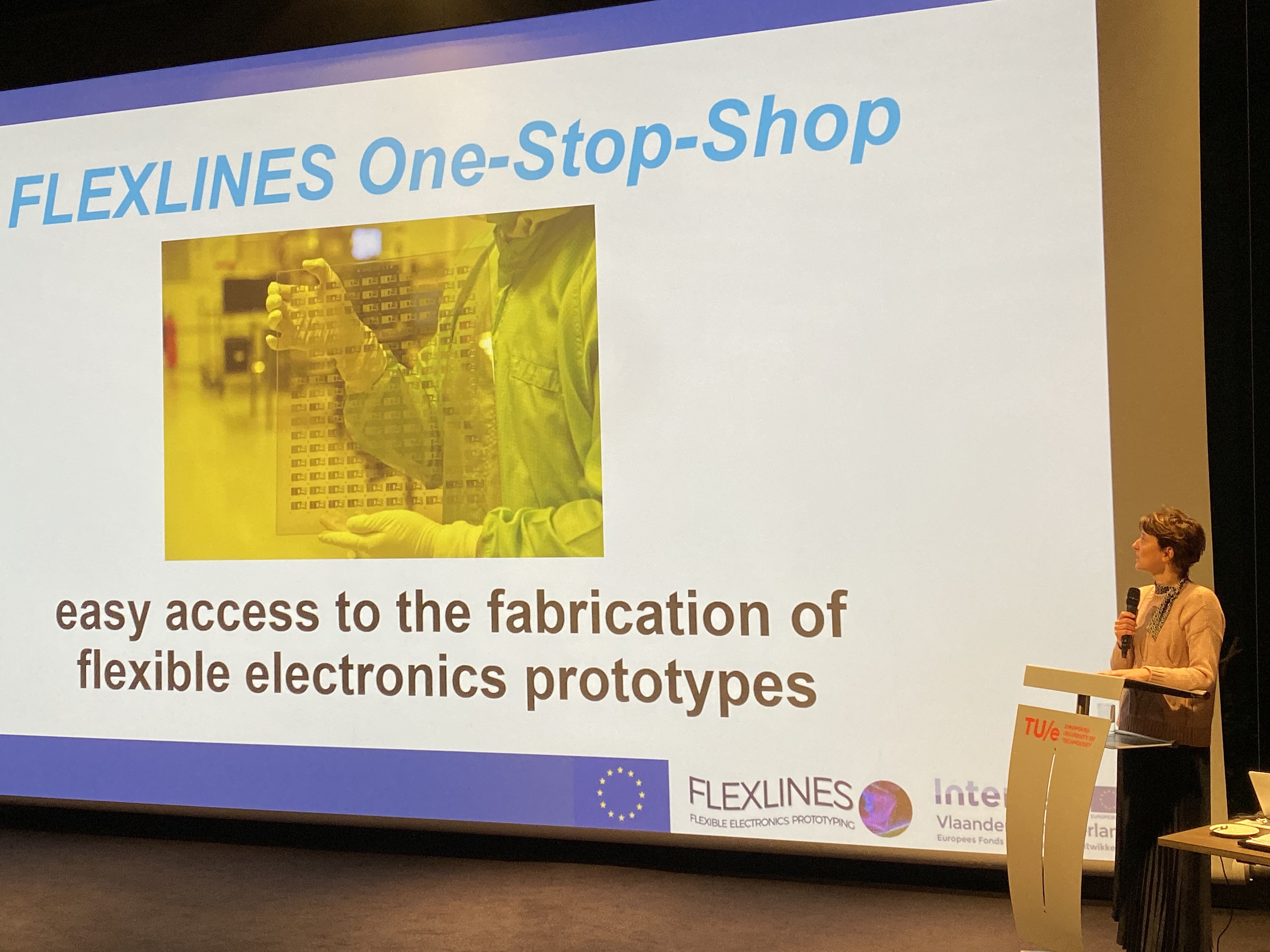 Riet Labie presenting the one-stop-shop concept

Kris Myny, Principal Member of Technical Staff and R&D Teamleader at imec, explained design challenges of Flexlines. He showed that a design flow for thin-film electronics is being established, which is very close to the standard design flow of Si CMOS chips. As such, it will be straightforward for non-experts to make a design proposal. He also shed a light on the differences of the design flow compared to Si CMOS, such as the impact of having only an n-type only device with parameter variation. Several solutions have been demonstrated by imec to bridge these challenges, leading to the creation of a multitude of IP design blocks, amongst others communication interfaces, memory, code generators, etc.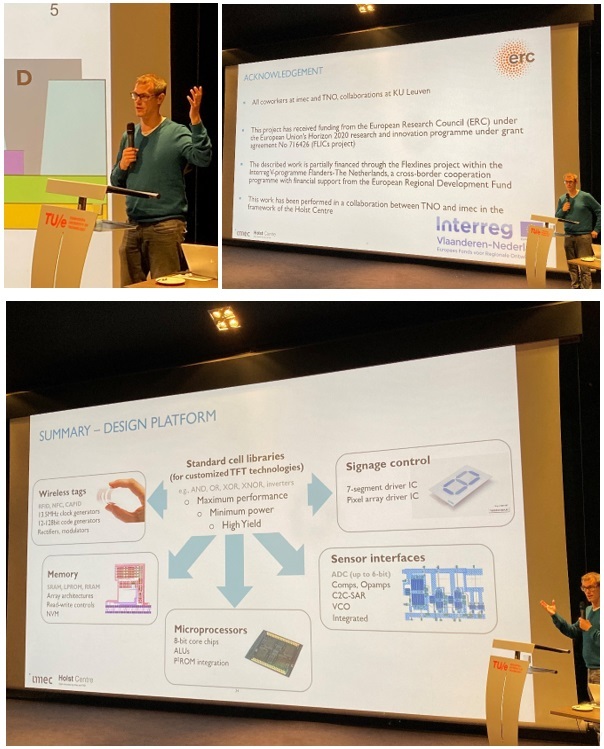 Kris Myny, explaining design challenges

After our Flexlines consortium, Mark Croes from Centexbel came to talk about Smart Textiles.
Various research groups pitched their ideas:
TU Eindhoven - Electrical Engineering: the application of flexible electronics to the measurement of biopotentials like EMG and ECG
Fontys University of Applied sciences: In the research group Applied Natural Sciences projects are executed in the area of organic and printed electronics. Examples of investigated printed flexible devices are RFID antennas, electroluminescent displays and loudspeakers.
Hasselt University: Silicone Devices - durable stretchable electronics
TU Eindhoven: the stimuli-responsive functional materials & devices group
Also, various companies pitched their ideas: BodyGraph, Neuroteg AI, Jessica Smarsch and Fibrothelium.


These pitches provided an opportunity to gain insight into the needs of the various parties. After the presentations and pitches, there was room for matchmaking and networking.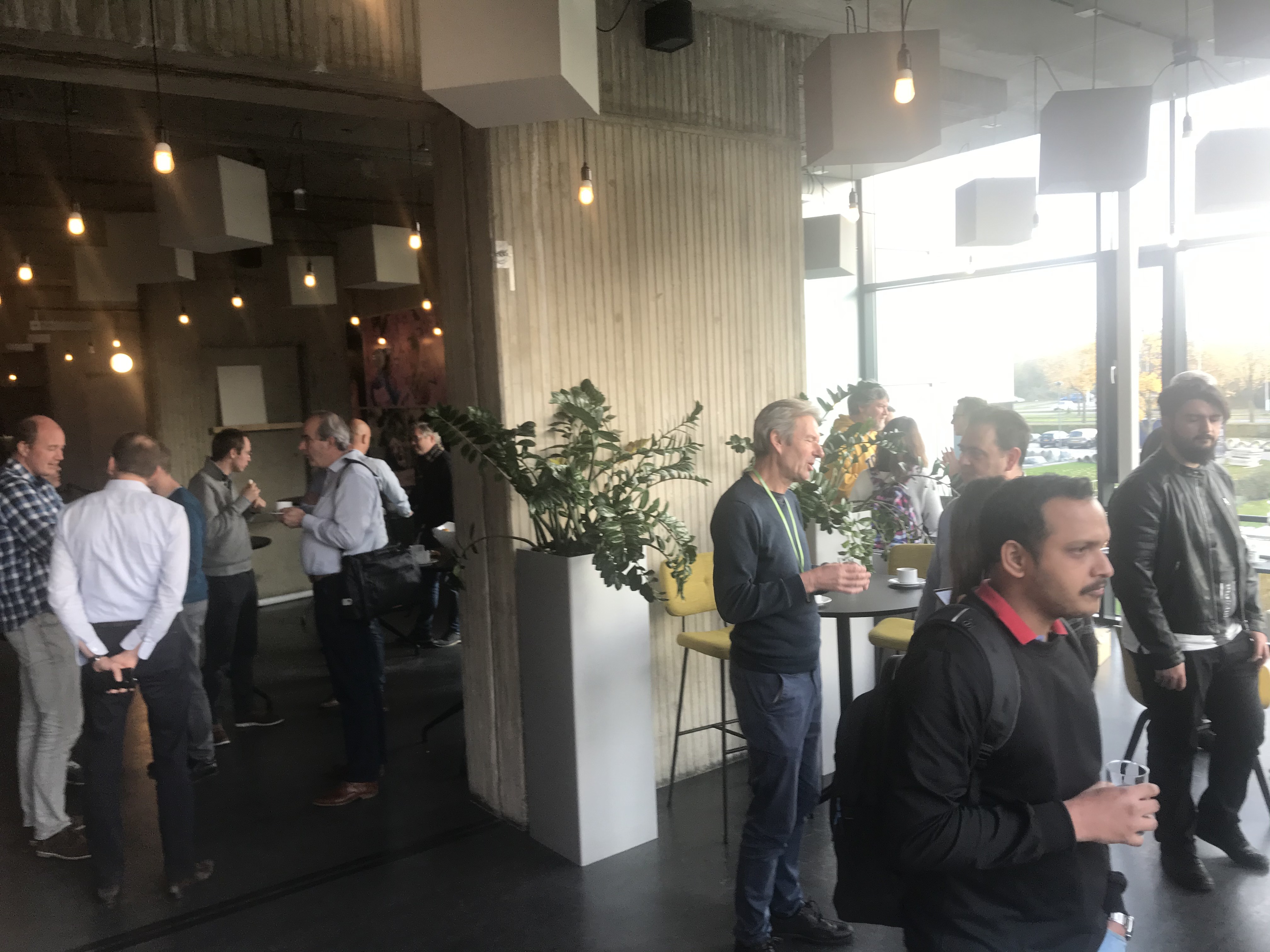 Networking after the seminar